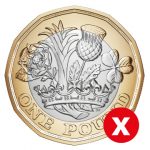 A PUSH to phase out the old round pound coin is being hampered by firms mistakenly returning its 12-sided replacement.
About half of the coins being delivered to cash centers have turned out to be the new currency, slowing efforts to remove the old pound from circulation.
The Treasury has called on business to be vigilant when sending coins in as the old pound will cease to be legal tender in less than eight weeks.
Andrew Jones, the Exchequer Secretary to the Treasury, urged companies to "maintain the momentum" when it came to returning the old coin.
Visiting Vaultex UK in Dagenham, East London, one of Britain's largest coin storage facilities, Mr Jones said:
There has been a fantastic effort from both the public and businesses in returning more than one billion old round pounds, and I thank everybody involved in this process so far.
"Businesses must remain vigilant and ensure old and new coins are organised in separate packaging to make the sorting process quicker and easier."
By Daily Telegraph Reporter