For the past year or so, businesses have had to carefully manage their staff in terms of hours and location of work. This has been heavily down to Covid-19 and its restrictions which left a lot of businesses with very limited options in how they operate. Fast forward to summer 2021 and the situation is the complete opposite. Demand has rocketed up as the restrictions are lifted however, labour has struggled to match the demand ultimately causing gaps in the supply chain.
To deal with these challenges, E-Service has carefully picked new recruits to add to their rooster. The positions filled in the organisation directly correlates to what E-Service was missing for the past couple of months.
Matthew Willard
To kick things off, E-Service are delighted to welcome Matthew Willard who is the new Customer Success Supervisor. Matthew will be working closely with our Operations Director, Arlet Anjo who has been with E-Service for more than 10 years making her the ideal person for Matthew to shadow. He is tasked with improving the customer's journey from when they make an order to when they receive it.
Commenting on his new role, Matthew said, " I sought out a role where I would have a more tangible impact and that would allow me to apply my knowledge of business concepts in order to make positive change within an organisation for the betterment of both the organisation itself and its customers."
Allison Akpos
The second position to be successfully occupied was Bench Technician. We would like to congratulate Allison Akpos for acquiring this role and joining our team of engineers. Allison recently graduated from the University of Hertfordshire with a Bachelor of Engineering degree in Electrical and Electronic engineering.
Also a member of Women's Engineering Society, we are delighted to have Allison as a member of our organisation. Concluding Allison had this to say" I am seeking a new and challenging position that will make the best use of my existing skills and academic achievements enabling further personal and professional development."
Caitlin Perkins
With increased demand in Sales, we urgently needed an individual to join our current sales team. Caitlin Perkins was the perfect candidate to fill this position. Caitlin has swiftly settled into the role and we are thrilled to have her on board as our new Sales Administrator. Her main duties will be to identify sales opportunities, generating and following up leads, visiting existing and new customers to secure additional business and growing our customer base.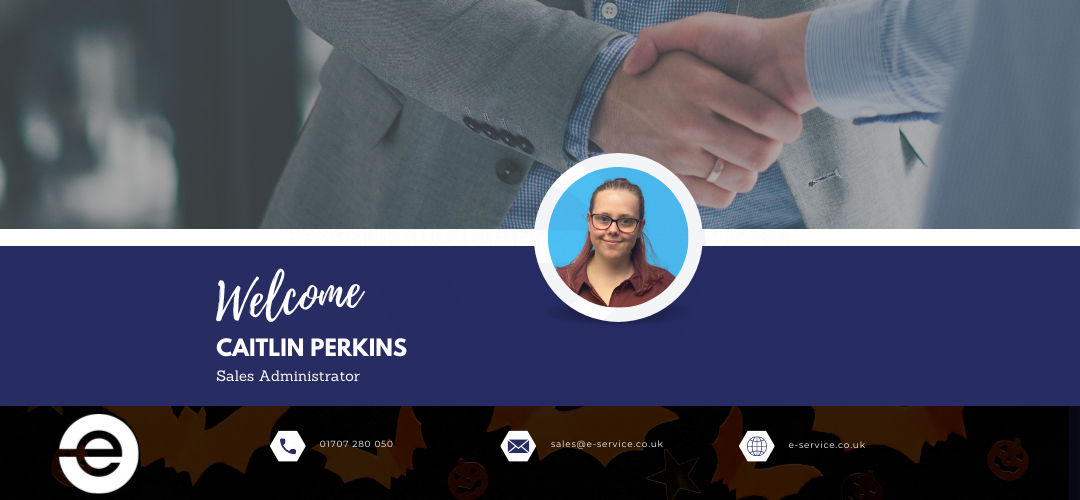 Previously, Caitlin worked as Service Leader at Starbucks managing a small team of employees. Excited by her new role Caitlin said, "Coming from a retail background, I understood the importance a good quality customer service. I've taken up this role aiming to better my skills and make an impact at E-Service."